You are currently browsing the tag archive for the 'heather scott home and design' tag.
You probably don't know this, but I get daily emails from PR companies asking me to feature a certain topic or product.  99.9% of the time I just hit the delete button because I am not interesting in selling anybody anything on my blog.
But, I am interested in educating myself and you, so when a book mentioned in one of these emails caught my eye, I asked the PR company to send it on.
The book is simply called "All About Carpets: Everything You Need to Know, A Consumer Guide"  by Glenn Revere.  There is an older version, but this one has been revised and updated.  You can purchase it here on Amazon for less than $15.
The reason I was interested is because I am often recommending carpet as part of my job and it is important for me to be educated on it.  Most of the vendors I work with haven't seemed to want to educate me.  They just say "Trust me, you want this type" or "They are all the same, even if the price is different''.  I'm not comfortable with that and really want to understand why something is better.
On top of that, though, there is more.  I know, for example, wool carpet is 'the best', because I have been told so and it is the most expensive.  But, it probably isn't 'the best' for a playroom, right?  So, I've been trying to learn 'all about carpet' for awhile now.  How convenient for me someone has written a simple book on it!
Here are some key points I learned from the book and wanted to share with you for when you are considering purchasing or recommending carpet:
#1: Wool Carpet- accounts for approx. 3% of carpet sales
Wool carpet
Advantages:
Very soft
Very resilient- it springs back to shape, even if furniture marks are made on it
The rough surface hides dirt, making it look cleaner
Wears well
Dyes easily, making it better for color depth, especially with very light or very dark colors
Is color fast; soil and dirt clean out easily
Disadvantages:
Most expensive, but can be most economical because it will last 20 years and still look good
Staining- wool absorbs moisture, so it will quickly absorb spills.  It can be treated with products like Scotchgard to help repel spills
A couple of other notes on wool, not from the book: wool is a non-allergenic fiber and dust mites will not survive in wool carpet.  It can also improve air purity, especially versus nylon.
#2- Nylon Carpets: Most popular type, approx 65% of production
Nylon Frieze style carpet
Stainmaster is the best known nylon brand.
Advantages:
Low priced
Wears better than wool, "given equal face weights"
High abrasion resistance- foot traffic will not cause the fiber to wear out.  What does cause the fibers to wear is when the carpet gets dirty and is not cleaned.  The grit will actually cut the fibers away from the carpet, which are then sucked away with the vacuum
Non-allergenic- mold or mildew can not grow
"Stain blocking" feature- stain resistant but not stain proof
Cleans easily
Disadvantages:
Is a more coarse fiber, but it has gotten softer of late with technology
Not very green, but becoming more so with recycling centers now accepting used carpeting
#3- Polyester
Polyester Patterned styled carpet
Advantages
Costs less than nylon
Practically fade proof
Can feel soft
Naturally resists staining
Cleans well with hot water extraction
Disadvantages
Overcoming a bad reputation from the 1960's for not holding up, flattening down, getting "ugly"
Has a lower resistance to abrasion (fiber's "ability to withstand wear")
#4- Olefin/Polypropylene
Outdoor rug
Advantages:
Does not absorb water (often used in outdoor rugs)
Outstanding fade and stain resistance
Can spot clean with bleach and not harm the color
Strong fiber- resists abrasion
Moisture and mildew resistant
Disadvantages:
Tends to flatten down (you will notice most outdoor carpets feature very flat fibers)
Low melting point- friction from the wheels of a toy car run back and forth over the carpet could cause it to melt
This book is full of other topics as well, such as rug pads, styles and installation tips, all of which is really helpful if you are in the market or want to learn more.  For now, I trust you will feel a bit more 'educated' as it pertains to the various types of carpeting after reading this post.  Furthermore, what better time of year to discuss this topic with Thanksgiving dinner less than a week away.  If your family is anything like ours, we will be testing how well carpets clean by 4pm next Thursday!
Thanks for following my blog and Scott and I would like to wish each of you a very happy and safe Thanksgiving!
I am very honored to have one of my dining room projects featured in the November/December issue of This Old House Magazine.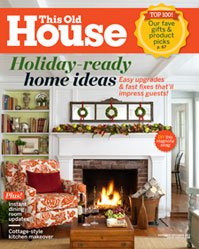 They have a great article on creating "Dining Room Drama" using bold colors in the dining room.
You might remember the dining room on the bottom right.  I did a blog post about it last year as a 'Before & After'.  The home was all beige and we added a lot of personality with color!
It is always a nice affirmation to see your work in a national print magazine!
This issue also has a great article about making an easy coffered ceiling (one of my favorite tricks) and The Top 100 New Products of 2013.
Check it out!
I am excited to share this stunning "simple horse" giclee with you all! I love the drama of black and white photography.  However, originals are often incredibly pricey (in the thousands of dollars range).
I came across this giclee recently and thought it would be a great add for the store.  It is the perfect artwork for a chic and tranquil space. The monochromatic gray palette adds a note of serenity with its cool colors.  Also, I think the content speaks greater without a burst of color.
Stop by today and see for yourself! The dimensions are 28.25" width by 41.25" length, and is priced at $622.50. This piece really adds a lot of impact for the money!
The furniture market takes place at High Point market twice a year.  If you are in the design and furnishings industry this is the place to go to find out what will be happening in furniture design in the next six months to one year.
Many of the products are prototypes which go into production following their success at the show.
Despite the fact that the market covers over 10 million square feet, it is pretty easy to pick up on the leading trends.  Here are a few which stood out the most.
1) Lighter, more sophisticated wood finishes
Halfway through the first day, Scott was getting tired of hearing the words 'burl wood finish'.  You may think of a different time period when you hear burl wood, but that 'look' is definitely experiencing a roaring comeback.  Don't believe me?…
As you look at these photos, you are also seeing trend #2, just giving you a hint…
And while some of these products are not specifically 'burl wood', there was a clear trend to polished finishes showcasing the grain of wood, including matching starburst patterns.  After a few years of unfinished, raw wood it was a breath of fresh air to see a return to a sophisticated use of materials.
2) Gold finishes
This is the number one reason why I do not like to 'match' all the finishes in a home.  One of the fastest ways to date a home is to use the same finish on every selection through out the home.
Many clients question the decision, for example, to have light fixtures in a different finish than the hardware on the cabinetry.  But I think if everything is the same, you can not achieve a collected look.  Instead your house becomes defined by the decade it was completed in (brass fixtures, so eighties, oil rubbed bronze, 2000's).
The Wall Street Journal had an article the other weekend about plumbing finishes proclaiming brass was back.  I think you just need to match the style of your home, but that is another topic altogether.
In the meantime, gold is the finish of choice in the furniture design world.  You can easily see it in the photos above, but I specifically asked the trend setting team at World's Away and they did not even hesitate about which finish was hot: "Gold, gold, gold" was the answer.
Clearly it is a warmer, softer gold, not a glitzy, tacky gold, but it is definitely a departure from the chrome of the last few years. And, while there was a lot of gold used in conjunction with wood grains, there was also a lot of gold trim used with white painted finishes.
3) Textured Tables
Accent tables made with unique materials are still strong, and the materials used continue to grow.
Here are a few examples:
A lovely entry table with crystalstone top (and gold base)
Penshell, mother of pearl, shagreen and bone tops:
Glass (smoky antiqued) and acrylic:
This console was one of my favorite pieces!
Tired of silver mercury glass, how about smoky, bronzed glass?
4) Washed Rugs
Rugs can really set the tone of a room.  For many of the commercial spaces I work on, the rugs need to be really bright and trendy, especially in the apartment models.  But, for a residential interior I prefer a softer, more sophisticated palette.
Washed rugs have an antiqued or aged look.  Some vendors call these collections Oushak, regardless of their heritage.  These rugs are often hand knotted and more expensive than a machine made rug.  But, they are very classic and provide more design flexibility.
The rugs still have hints of color, they just don't scream at you when you see them.  For me, this helps provide a sense of a calm, orderly interior.  I understand that many people do not want to spend a ridiculous amount of money on a rug, but if you are willing to upgrade for your next rug, I would highly recommend going with this style.
So, there you go, the high level on the key trends.  And, I have to say I am happy with all of them. I am very excited to see our retail store decked out in more sophisticated wood finishes and softer colors.
The only downside is that these richer materials do bring with them a higher price tag.  And, while I am disappointed by that, I am hopeful that consumers will come again to appreciate a higher quality finish and move away from the disposable furniture of the past decade.  I do hope for that, and will certainly do my part to educate my clients on this approach.
I have been working on a new build project up in Fort Worth for awhile.  It was a bit of a slow start (weather delays, permits, etc).  But now it is really up and going.  Here is a copy of the original exterior rendering:
I was onsite yesterday and I was so pleased with how it looks.  I wanted to show you some photos of the early stages, so you will have some background when we get to the lovely reveal.
This home is in an older, historical neighborhood and is being built in the Georgian style of architecture.  The home previously on the site had foundation issues and was not able to be salvaged by the new owners.  They ended up doing a redesign of the home.  Georgian Architecture is not a style common in the Austin area, but I love it!  The basic principles of this architecture involve symmetry, order and proportion.  Anyone that knows me, knows I like orderly environments!
To give you some high level points about the architecture (a little history lesson), this is predominately an English style of design from the early 1700s to mid 1800s.  This style is recognized by its proportion and balance. Lack of symmetry, at this time period, was felt to be a design flaw.  Ancient Greek and Roman classical rules of architecture (including using math to determine the best formula for window width and shape) were used to design the homes.
Images from Pinterest/Google
Georgian homes are most often clad in brick, commonly red or painted tan or white.  Ours will be a beautiful off-white, but we will have little while until we get to that point.
Here are a couple of interior images to give an indication of the entry area.  Georgian architecture has a lot of millwork detail and this home will have that, as well.  The windows and ceilings will have various types and levels of moldings.  The entry and dining both have domed or recessed areas for additional architectural detail.
This is a look up into the entry ceiling:
This is the dining room, to the left of the entry, with 2 sets of beautiful French doors out to the front porch.
There is  a pair of French doors on the left side of the home, while the right side has the same style, only these are windows. You can not tell from the street that they are different, there is still perfect symmetry.
I am looking forward to going back in about another 6 weeks to do the measurement for the window treatments and finalize the furnishings plan.  I will keep you posted on the progress!  In the meantime, I encourage you to pay attention to the exterior styles of homes that cross your path.  Sometimes we get in a rut, making everything look the same.  You never know what other styles you might like if you don't get out there and see them!
You should know by now that we have a favorite source for the most realistic 'faux' orchids out there.  I just can not keep a real plant alive, so we are always looking for a way to add greenery that doesn't look fake (or worse than that, really cheap and plastic-y).
Well, I am excited to say our favorite company did a few custom pieces for us in our most recent order.  Here are some photos of these never before seen orchids!
A Heather Scott custom order: triple white orchids in silver round crackle pot for $249. The pot is absolutely stunning and eye-catching!  Very 'Rough Luxe'.
Less is sometimes more. This single white orchid in mercury glass pot is priced at $149 and adds an elegant touch to any tabletop.
And, one of our regular favorites, a Quadruple phalaenopsis orchids in vintage rice bucket with deerhorn and agave for $499.95. With dimensions at 36″W x 36″H x 32″D, this is sure to have a "wow" factor!  We get this arrangement quite often, but they are always different because of the vintage containers they use.
We always love our orchids, but we are gearing up for holiday decorating, soon.  I can't wait to show you photos of the gorgeous garlands and other holiday décor we have ordered!  Stay tuned for more….
I was very honored to be contacted by Luxe Magazine recently and asked to participate in a Question and Answer feature for their latest issue.  The magazine just came out:
Luxe magazine is really tastefully done and I was so pleased to be featured in an editorial.  The article talks about the store in the top left and has the Q&A in the middle.
I was really excited when the magazine come out to see the feature, but the best part was when I saw my friend, Dallas area designer Kim Hoegger, featured on the same page with me.  What a treat!  Her article in titled "Vintage Tale".
The article is in the Fall 2013 issue, Austin & Hill Country edition.  Look for it at local newstands!
I am back from the twice annual Round Top Antiques Fair out in Round Top, Texas.  For those of you enjoying the nice transition to fall, let me say: Lucky you.  It is still in the sweltering 90's here in Texas and boy was it hot out in the fields.
That said, it did not stop me from perusing the offerings over the past 3 days and observing the latest buying trends at this famous event.
Key observations:
1) A return to elegance
Round Top does draw a huge buying market from the Houston area, which I believe is strongly influenced by the French style of New Orleans.  The Belgian look had ruled for a short period time, but the hottest selling items appeared to be those with a lot of class.
Gilt details, ornate light fixtures, plush-down seat cushions and a lot of sparkle stole the show.
The items quickly marked "SOLD" did not indicate 'austere' in any manner.
2) Gray velvet is the new beige linen
I could have take more photos, but you get the message.  Gray continues to be 'the new beige'.  Gray does look really rich in velvet on an antique chair.
3) Two-toned painted furniture is possible on anything, especially with the help of chalk paint
If you have a piece of furniture you don't love, try chalk paint.  Everyone else has.  There were plenty of pieces at the market that were painted with chalk paint or accent paint to make the piece unique.  There is definitely a level of experience which shows through, so make sure you practice before you really commit!
If you haven't experienced it yet, Round Top really is worth the trip.  This is a photo of "The Big Red Barn" as people start to line up the first morning it opens.
A lot of people ask if I buy for the store at Round Top, but it isn't really that type of place, unless your shop is vintage or antique.  I did buy a few things for myself and for the parade home.  One score was this pair of vintage orange velvet wing chairs made by Century Furniture.
I'll admit these are kind of a 'you love it or hate it' item, but they are the perfect scale and super comfortable.  I was thinking I might have them re-upholstered for the Parade of Homes.  The fabric is a lot of fun, but it is pretty worn.  If I do replace the fabric I am definitely sticking with velvet.  These chairs are scrumptious to sit in! I'll be curious to hear who likes them and who doesn't!  Feel free to leave me a comment!